Elixir - female aphrodisiac
Elixir - Lady's joy for the pleasure of both parties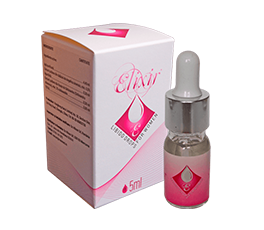 Sex is an important part of every healthy and normal relationship, it is unmissable. There are difficult periods in all our lives, or relationships when sexuality is demoted, however this is not a permanent condition. It is often difficult for a woman to rekindle the sexual desire in case she has not have sex for a long time. The reason behind that could be pudency, inhibitions of trying new things, faint-heartedness, or even bad memories. In later years, the decrease of the libido is anyway a natural phenomenon, but it should not mean to give up joys of making love. Elixir invigorates sexual life thereby helps in starting again, continuing, in order not to postpone making love never ever.
For the decline in female libido, a Chinese company, named Sichuan Weilong Pharmaceutical, producing pharmaceutical products and nutritional supplements, has developed aphrodisiac drops that is natural, have quick effects and ensure unmatched experiences by intensifying sexual desire. Enjoy Elixir!
For women
After a long day work, you are so exhausted that you don't feel like making love with your husband? Do you find it difficult to attune to your partner as a result of daily stress? Due to your age, have you lost sexual desire? It is quite a long time you have had orgasm? Have sexual intercourses turned into boring routine? Do you often say NO to make love? Is your relationship becoming cold due to the lack of intimacy and tenderness? Or would you simply like to tone up your sexual intercourses?
The solution exists. Surprise your sweetheart with a hot night and be surprised still how much passion flames in you!
For men
Would you like to gladden your sweetheart in the bed? Has love makings turned into routine with your wife? Does she increasingly say no to you? Would you like her being a lustful and hot chick again? Or would you simply like to jazz up your sexual intercourses? Would you like to present your partner with a magnificent experience in bed? Don't you want to be estranged completely from your spouse?
Discover the solution! Show your sweetheart this solution and if she likes that, surprise her with a package of Elixir – is other words: have sex all night long!
Elixir - in details
Elixir is a natural product to enhance female libido. The natural Elixir drops restore the female libido and increase sexual desire. Elixir drops have neutral colour and fragrance, and can disolve in any drink. Easy to apply, the effect is almost immediate. Just before the sexual intercourse, only 5 drops of the Elixir in any liquid is enough to enhance libido. The effects of Elixir are almost immediate, but to be sure, take them 20-30 minutes before lovemaking.
The active ingredients in the product are carefully selected herbs that are known to have great impact on female sexual desire. Used by millions of women around the world, the results of Elixir are more than satisfactory. Whereas Elixir contains 100 percent natural extracts, there are no side-effects. Dissolved in any drink, neither alcohol nor carbonic acid can decrease its effect. Be aware of not exceeding the daily dose (max. 5 drops)!
This food supplement has no side-effects thanks to its natural components. However, it is not recommended under the age of 18, for pregnant and nursing mothers. Keep away from children. The Elixir is a dietary supplement, and cannot substitute a balanced diet and a healthy lifestyle.
The main component is Dong quai (Angelica sinensis), also known as Chinese angelica. The root of this plant - the plant itself is used for salads as well - has a good impact on feminity. It is rich in vitamins (A, B1, B12, E, and biotin). It is primarily known for its uses in treating women problems including the symptoms of dysmenorrhoea, or uterus disorders. Further uses of Dong quai are for treating headaches, respiratory or rheumatic diseases. It controls the hormonal balance, stimulates the immune system and metabolic processes. It has antioxidant properties, tones blood vessels, stimulates blood flow, and has good impact on the heart and circulatory system. It is beneficial for a female body in all respect.
The other main component of Elixir is the mysterious five-flavour berry (Schisandra chinensis). It is one of the most important herbs used in traditional Chinese medicine for about 2000 years. It is rich in minerals, vitamins (C and E) and essential oils. Its constituent, the antioxidant lignans, is the vegan source of Omega-3. It helps to overcome stress, stimulates the neurons, thereby enhancing the reflexes and muscle strength, increases energy levels, relieves the symptoms of menopause and menstrual discomfort, has detoxifying effect, and also stimulates digestion. It strengthens the immune system, intensifies the cells' energy supply by increasing the oxygen uptake of cells and tissues. It lowers blood cholesterol level. It harmonises physical and mental well-being. It is found to have great effects on the sexual culmination and vitality experienced by both men and women.
Active ingredient in daily dose (5 drops):
- Chinese angelica (Angelica sinensis): 300 mg
- Five-flavour berry (Schisandra chinensis): 300 mg
- of which schisandrin: 6 mg
Order Elixir drops now and it will be delivered in a discreet, unobtrusive package within the shortest possible time.
Elixir - female aphrodisiac
Choose the amount of capsule

Basic Package - 12 capsules
55 EUR

Lifestyle package - 16 capsules
60 EUR

Buffalo Package - 20 capsules
76 EUR

SPRING SALE : 12+4 pack
59 EUR

SPRING SALE: 12+8 pack
65 EUR

1 Libido Deluxe Lubricant Gel + 8 Capsules
45 EUR

1 Libido Deluxe Lubricant Gel + 12 Capsules
60 EUR

1 Libido Deluxe Lubricant Gel + 16 Capsules
63 EUR
Guarantee
If you are not entirely satisfied with your purchase, simply return the unused item in its original packaging.
Discreet packaging

We deliver Your product in discreet packs, You won't be embarrassed because of us!
Delivery

With the help of our contracted partners, You get your capsules on time!