Components
Asian Ginseng (Panax Ginseng)
The compounds responsible for its effect eliminate symptoms caused by stress. It increase mental and physical performance.

Lycium fruit (Lycium Chinesis
The Lycium fruit enhances male fertility and sexual performance. Protective effect on sperm cells. In addition, it is shown that the Lycium fruit strengthens adrenal functions, that is known as the center of sexual energy.

Golden Root (Rhodolia Rosea)
According to popular belief, drinking daily one cup of tea made of Golden Root is the access to live for 100 years. The Eastern European and Asian nations used this herb for thousands of years. Antidepressant, anti-cancer, cardio protective, has circulation improving effect and improves the central nervous system functions. Keeps you balanced.
Cinnamon (Cortex Cinnamon)
Its root has been used for centuries in the Far East. The plant's special feature is that can only grow under shade. Enhances mental and physical condition, it is an aphrodisiac.
In addition to its good effects on the digestive and the cardiovascular system cinnamon also has a beneficial effect on blood sugar levels.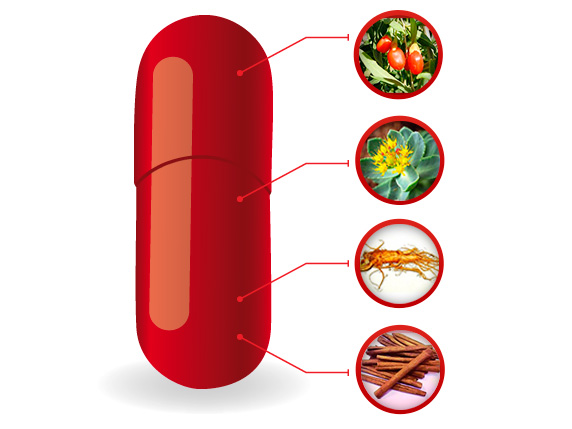 Choose the amount of capsule

Basic Package - 12 capsules
55 EUR

Lifestyle package - 16 capsules
60 EUR

Buffalo Package - 20 capsules
76 EUR

SPRING SALE : 12+4 pack
59 EUR

SPRING SALE: 12+8 pack
65 EUR

1 Libido Deluxe Lubricant Gel + 8 Capsules
45 EUR

1 Libido Deluxe Lubricant Gel + 12 Capsules
60 EUR

1 Libido Deluxe Lubricant Gel + 16 Capsules
63 EUR
Guarantee
If you are not entirely satisfied with your purchase, simply return the unused item in its original packaging.
Discreet packaging

We deliver Your product in discreet packs, You won't be embarrassed because of us!
Delivery

With the help of our contracted partners, You get your capsules on time!